Regular price
Sale price
8.750 Ft
Unit price
per
Sale
Sold out
Experience the feeling of hydrated, vibrantly healthy skin with
OBED Blemish Night Toner
!
This highly concentrated nourishing toner, with 85.24%
Evening Primrose extract
dissolved in γ-linoleic acid and vitamin E, and the exceptional
Vita Complex,
helps skin regenerate and renew itself overnight. Not only intensively hydrates, but also helps to fade dark spots.
Evening Primrose Extract
- helps treat acne thanks to its anti-inflammatory action
- helps to relieve the symptoms of eczema
- increases skin elasticity
- hydrates
Vita complex
Vita Complex is an ingredient with a high concentration of different vitamins (Biotin, Panthenol, Thiamine HCL, Cyanocobalamin, Riboflavin, Pyridoxine, Folic Acid, Menadione, Bioflavonoids, Ascorbic Acid, Tocopheryl Acetate, Glutathione) that makes the skin radiant and lively and helps to replenish moisture and nutrients.
Niacinamide
Helps to fade dark spots.
Panthenol
Soothes the skin.
Calming complex
- Houttuynia Cordata extract: quercitrin helps to fade dark spots
- Scutellaria Baicalensis root extract: revitalizes, makes skin healthier
- Green Tea extract: helps soothe and improve the texture of skin damaged by daily environmental stresses
Prepares you for the next stepOBED Blemish Night Toner
is an excellent base for your other cosmetics. It normalizes skin pH and, when used with a cotton pad, gently exfoliates the surface of your skin.
Wake up every morning with glowing and healthy, hydrated skin with
OBED Blemish Night Toner
!
Use in combination with
OBED Blemish Night Serum
for maximum effect!
Package size: 250ml/8.45 FL. OZ.
View full details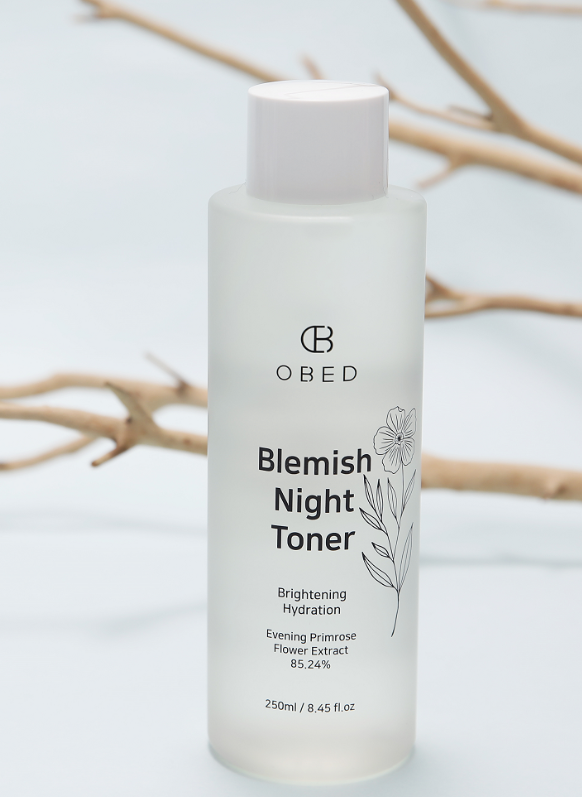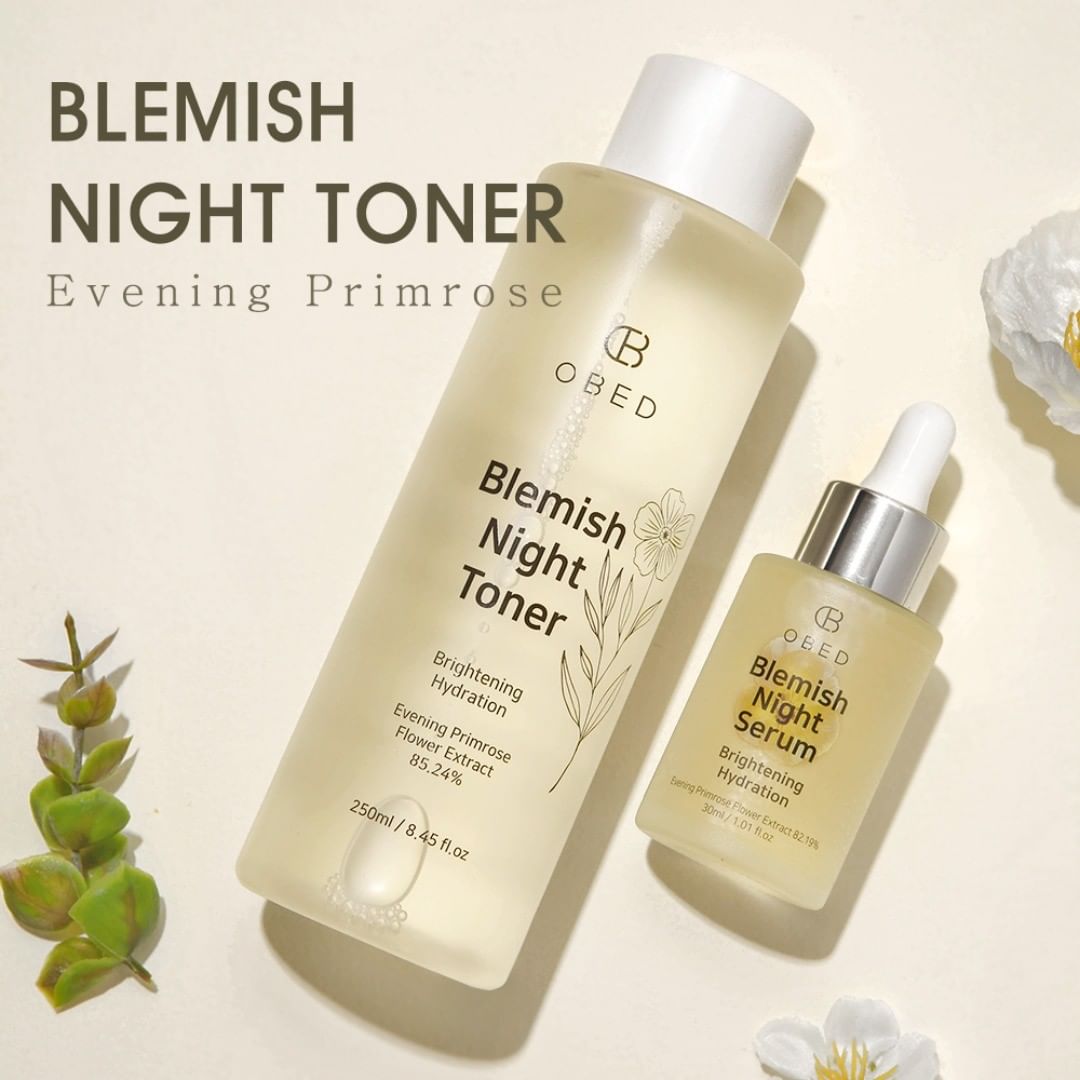 How to use

Na, on-Gyeol's Tip

Main Ingredients
Apply an appropriate amount of OBED Blemish Night Toner to wipe and tap after cleansing your face.
When both OBED Blemish Night Toner and OBED Blemish Serum are used together, there is a synergistic effect of boosting each other.
Evening Primrose Flower Extract, Vita complex, Niacinamide, Calming complex